🏆 best tools
Best help desk ticketing software [Guide 2023]
July 31, 2023 • 4min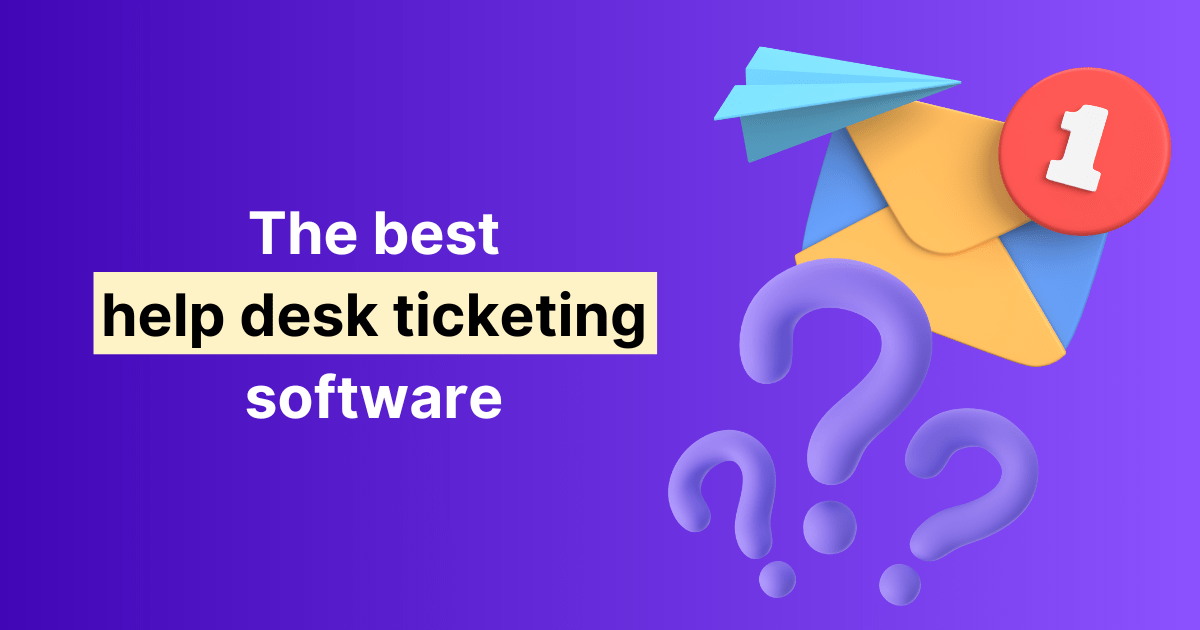 Sometimes it's hard to resolve customer queries over live chat. That is where a ticketing system comes in place so that you can simply convert a customer query/issue into a ticket and assign it to the respective person or department. It's a simple and efficient way to manage customer queries.
Let's understand more about help desk ticketing software, go through the best ones, and see what should be the best choice for you.
What is help desk ticketing software?
A help desk ticketing software is a tool that helps your customer support staff or your users to create support-related issues as tickets. The primary benefit of help desk ticketing software is that it's async and makes managing user queries and issues much more effortless.
Benefits of a help desk ticketing software
A help desk ticketing software has several benefits for your customer support staff and users. Let's go through some of the primary ones:
Efficient issue management: Managing user issues and support queries can be effectively done using help desk ticketing software. This method is completely asynchronous, which means that the right person can respond whenever they are available.
Improved communication and collaboration: Help desk software is built to be used by support teams and hence comes with features like "assign representative" to ensure that the right person is involved in providing the correct response to user's queries.
Scalability: Unlike live chat, help desk tickets don't need dedicated bandwidth/support staff. Due to its async nature, anyone from the team can pick up the tickets when they have spare time.
Best help desk ticketing software
There are several help desk ticketing software in the market, some great, and some aren't, so choosing the right one is important as your customer support metrics are directly connected to customer satisfaction rate. Choosing the right one will speed up your customer communication process, leading to a higher customer satisfaction rate.
Let's go through some of the best help desk ticketing software and a different alternative.
HelpKit
HelpKit is neither a help desk tool nor does it comes with a conventional ticketing feature, but it still deserves to be on this list, and you might be wondering why?
So ticketing software is primarily made for larger customer support teams (ideally >20) to collaborate efficiently, but this can actually slow down a few things if you are a small team or want to move fast.
This is where HelpKit shines, as it's a knowledge base tool - users first see the existing articles and guides and then contact customer support. The best part is HelpKit drastically reduces the number of support tickets as the help docs themselves solve most queries.
This reduces the load on your support team, provides your users instant support, and increases customer satisfaction.
Pricing: Starts at $19/mo.
Zendesk
Zendesk is a popular customer support and pre-sales communication tool that comes with features such as live chat, bot builder, knowledge base, omnichannel messaging, and much more. It also comes with the ability to convert user chats and messages on other platforms into support tickets that can be assigned to the responsible person.
It's indeed one of the most sought-after tools among SaaS companies because of its ease of use and ability to integrate with many other popular tools. The only con with Zendesk is its pricing which starts at $59 per agent/month, so if you have 10 support staff, then you'll be paying $590/month, which is costly for most businesses. This makes it one of the most expensive tools on this list.
Pricing: Starts at $59/mo./agent
Zoho Desk
Zoho Desk is another popular help desk tool that comes with a ticketing feature. Most people love using Zoho Desk because of its affordability and how easily it connects to Zoho's Suite of business software.
Although Zoho Desk is feature-rich, the lack of options for alerts with ticketing and updates has been a major issue for users. The UI also occasionally faces hiccups, suggesting a need for improvement in platform stability.
Pricing: Starts at $20/mo./agent
Freshdesk
Freshdesk is a help desk software by Freshworks, which is a similar brand to Zoho. It's a popular help desk tool among many B2B and B2C SaaS because of its affordable pricing and startup discounts.
Freshdesk integrates natively with other Freshworks tools, making it an easy choice for existing users. However, the UI is non-intuitive and feels outdated.
Pricing: Free plan available, paid plan starts at $18/mo./agent
Help Scout
Help Scout is a SaaS built to handle all customer support-related issues and comes with features such as a knowledge base builder, live chat, shared mailboxes, ticketing service, and much more.
Help Scout has appealing features but can be costly for some businesses. Additionally, users have reported UI issues (per TrustRadius and G2).
Pricing: Starts at $25/mo./agent
Front
Front is a comprehensive customer communication platform that enables teams to manage all customer conversations in one place. It has features like shared inboxes, messaging, automation workflows, and analytics.
Front's shared inbox feature allows teams to collaborate on customer conversations and assign them to the right person for a quicker resolution. It also integrates with a wide range of tools, such as CRMs, project management software, and social media platforms.
Pricing: Starts at $19/mo./agent
Hiver
Hiver is an email management tool with a shared inbox feature that simplifies team collaboration and customer query management. It allows you to convert emails into tasks, assign them to team members, track progress, and prevent anything from falling from getting lost in your inbox.
Hiver's pricing is affordable compared to similar tools but has fewer features and requires a G-Suite account. This means that if you use something like Hey or Microsoft 365 (Outlook) then Hiver won't work for you.
Pricing: Starts at $10/mo./agent
What should be your choice?
Choosing the right tools requires considering various criteria. Don't let features distract from the core question: "Will this tool solve my problem?"
When choosing a help desk ticketing software, you need to remember your specific needs and requirements; however, in most cases, you don't need a help desk ticketing software.
If your team is small, receives low support ticket volume, or receives generic questions, using a tool like HelpKit can be more beneficial. You can utilize your knowledge base to answer generic questions and keep the process of replying to user queries simple by directing them to your email using its contact us feature.
Also, Help Kit has a native integration with dedicated help desk tools such as Zendesk, Freshdesk, and HubSpot to setup a much more streamlined ticketing system.
Conclusion
Take this blog as your buying guide and do compare all the tools yourself based on your specific needs. If you are starting or need to keep simple, then do give HelpKit a try - it's free to get started.