🏆 best tools
Best software documentation tools 2023
August 22, 2023 • 3min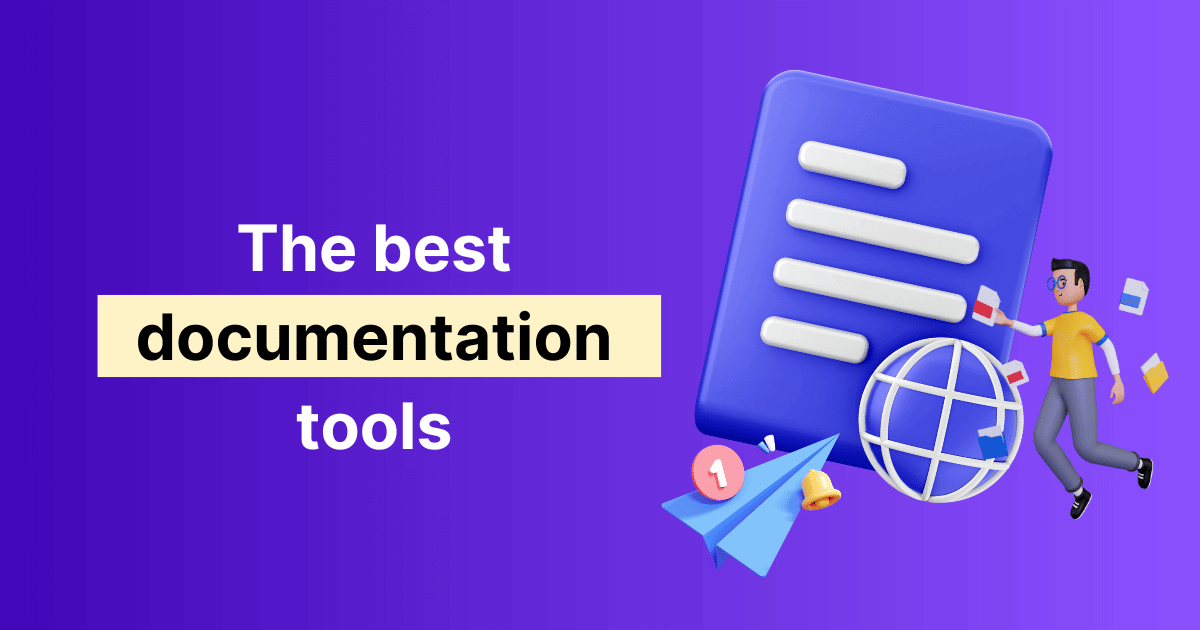 It is highly recommended to have product usage documentation when running a software business. These docs help users effectively use your software and ensure a smoother experience.
Even though it's recommended, many don't have descriptive documentation in place as writing it can be tedious, exhausting, and quite boring, but its benefits make up for all of it. Nowadays, it is much easier to create documentation using AI-powered tools such as Notion AI and ChatGPT.
In this blog, we will look at what documentation tools are, their benefits, and the best tools available on the market.
What is a documentation tool?
A documentation tool, as the name goes by, is a tool that's designed to assist users, contractors, or even employees with all the necessary information on how to use a product properly. Although documentation tools can be used for both internal and external purposes, they are more commonly used as support documentation for existing customers.
Benefits of having a documentation tool
There are several benefits of having a documentation tool both for your team and customers; let's go through some of the primary ones:
Well-written docs reduce the load on support teams as the help docs can answer many repetitive queries.
Documentation tools are also great for improving communication between support teams and customers. Support teams can easily share links to docs when needed.
A good documentation tool can make onboarding new team members and customers easier as they can refer to product usage docs and easily understand the product.
Best documentation tools
There are hundreds, if not thousands of documentation tools out there to choose from, but only a few are actually helpful. Here's a list of the best documentation tools that you should consider.
HelpKit (more than a documentation tool)
HelpKit is a documentation tool built on top of Notion for creating a knowledge base that end users can use to understand how a product/feature works. Also, as it's built on top of Notion, you get the best writing experience and can use Notion AI to fast-track your documentation writing process.
The primary USP of HelpKit is that it puts all your product documentation inside a nifty embeddable floating widget. This is a step forward in making it easier for your users to find product documentation and guides without leaving their tab.
Also, HelpKit's widget has recently become more powerful with the addition of "HelpKit AI" which turns your Notion knowledge base into an intelligent, 24/7 available AI assistant that provides precise and instant answers to your users.
Pricing: Starts at $19/mo.
Notion
Notion is a popular note-taking app that has grown to be used as a job board, blog, and even a product documentation tool. Many organizations use Notion as a documentation tool because of its excellent writing experience. Additionally, sharing documents is pretty straightforward.
Though Notion is a great tool, it has many drawbacks, such as slow-loading public pages and a lack of support for custom domains (without using 3rd party tools), making it a poor choice.
If you are one of those who love using Notion for their help documentation, then you'll surely love HelpKit.
Pricing: Generous free plan available, paid plan starts at $8/mo./user
Document360
Document360 is a popular documentation tool that's used to build a self-service knowledge base for both end users and employees. It also lets you deploy your knowledge base in the form of a standalone website and embeddable widget, just like HelpKit.
Though Document360 is quite popular and has been in the market for quite some time, it still needs to catch up in terms of writing experience.
Pricing: Comes with a limited free plan, and paid plan starts at $149/mo.
GitBook
GitBook is a simple and easy-to-use platform that lets you create easily publishable and searchable technical documentation (primarily for software built and maintained on Git) for your customers.
It also integrates with other platforms effortlessly, such as GitHub, Slack, and Linear, which saves a lot of time.
Pricing: It offers both free and paid plans. The paid plan price starts at $8 per user per month and increases depending on the plan you choose and the number of users.
Confluence
Confluence is a documentation tool that provides an extensive range of features for creating, managing, and organizing documentation. It is especially useful for larger teams working on complex projects.
Confluence offers a wide range of functionalities, including editing tools, templates, and macros, that help to streamline the writing process. It also integrates seamlessly with other Atlassian tools like JIRA, making it easy to link documentation to specific issues.
Note: Confluence is primarily used as an internal documentation tool, but some also use it for end users too.
Pricing: Starts at $5.75/mo./user for small teams
Which is the best documentation tool for me?
There is no one answer to this question, as it depends on individual needs.
However, if you want a simple, robust, and a great writing experience, then HelpKit is an excellent choice. Do give it a try; the first 7 days are on us.
Lookout for AI (bonus tip)
AI has been a hot topic recently, and many tools that we mentioned above leverage it to improve the workflow. Although AI may not always be the most helpful feature, it can be useful in certain cases. Let's explore some examples.
Notion AI: Notion AI can help write product documentation by generating a first draft of the documentation based on a provided prompt and context. This can save time and effort in the writing process, allowing for more time to be spent on refining and improving the documentation.
HelpKit AI: The newly launched AI-powered chatbot by HelpKit is another great implementation of AI. It turns your existing knowledge base and product docs into a smart, 24/7 available AI assistant that provides precise and instant answers to your users. Think of it as an intelligent support rep that works for free.
So, look out for AI-powered documentation tools when choosing the right documentation tool for your team.
Conclusion
In conclusion, having a good documentation tool is essential for any team or organization that wants to provide great customer support and onboard new users efficiently.
Consider your individual needs and the benefits of each tool before making a decision. Also, keep an eye out for tools that leverage AI to improve the writing process and provide better support to users.