🏆 best tools
Best HelpDesk Tools (Buyer's Guide 2023)
July 4, 2023 • 4min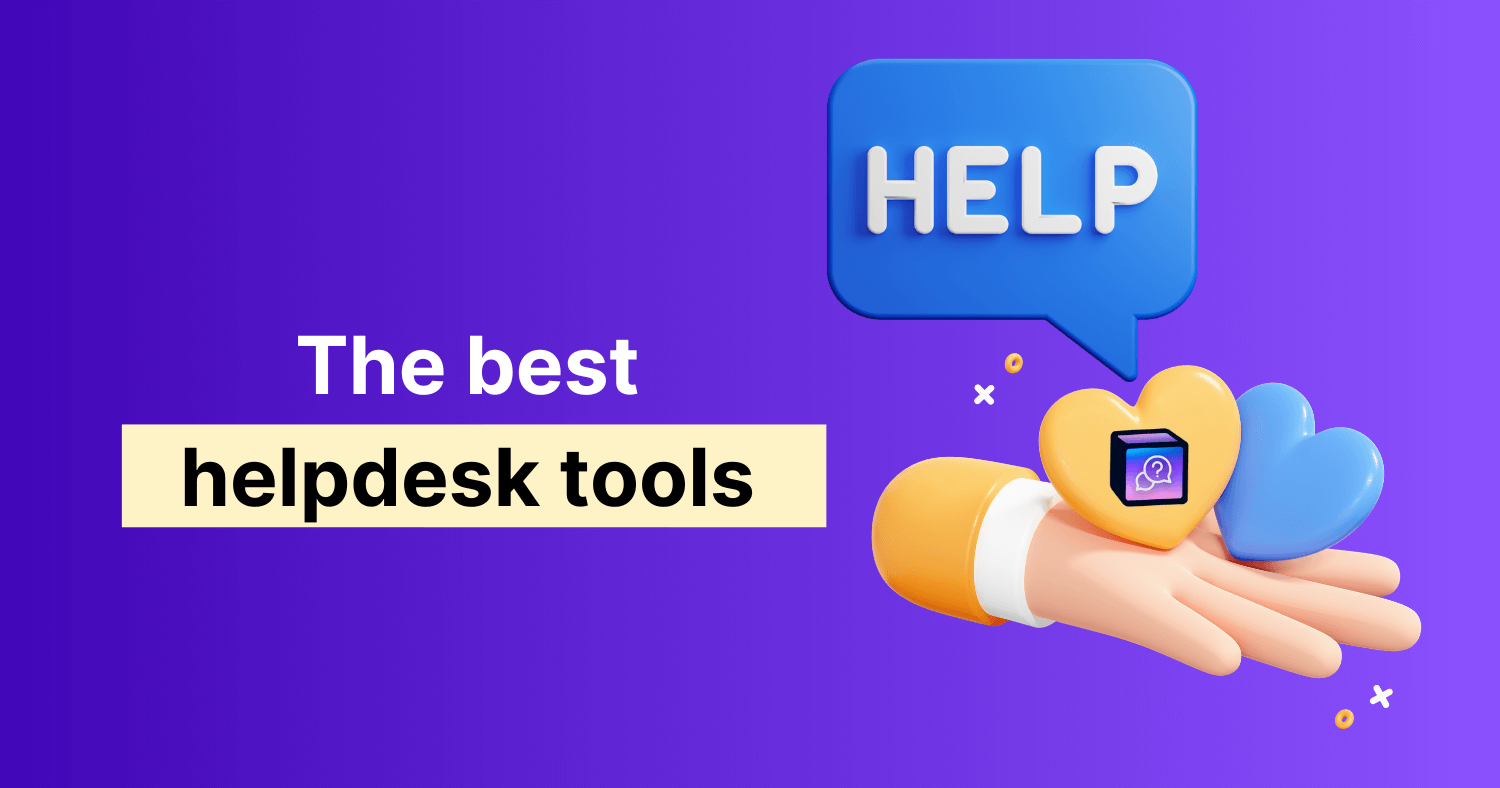 Helpdesk tools are a lifesaver when it comes to SaaS; you can have all your guides, feature explanation, and other important stuff in a single place and share them whenever needed. A helpdesk is a great tool in improving communication as everyone would be sharing the same docs link; you can be assured that only the right information is passed to the end consumer.
Apart from that, it is also an excellent way of answering user queries on Google when they search for things like "How to do X in tool Y".
What is a helpdesk tool?
Helpdesk is essentially a simple tool that businesses use to help with customer support, and this offers features such as a knowledge base, support ticketing, communication channels (email and live chat), and analytics.
For most businesses, knowledge base and support ticketing play a critical role as it reduces the burden on customer support teams as live chat requires dedicated human resources, which is not feasible for all businesses.
In short, a helpdesk streamlines the customer support flow by having all things in one place and also making it easy for the end user to access support guides thanks to the knowledge base. This also increases customer satisfaction rate.
Things to look for in a helpdesk tool
Choosing a helpdesk tool with the correct set of features is crucial, and once you've chosen one, it's hard to switch and takes plenty of effort.
Here are some features to look for before finalizing your helpdesk tool.
Good UX
Having a helpdesk tool with a good UI and UX is critical. You or your team would primarily be dedicating lots of their time towards the helpdesk tool and having a tool with poor UX will take a longer time to implement it and then maintaining it would be a hassle too.
This is why you should pick a helpdesk tool that comes with a UI that which is easy to user and understand.
Integrations
Having the right integration is equally important when picking a helpdesk tool. You should have a look at all the relevant tools that you are already using and check whether the new tools will support it or not.
For example, if you are using HubSpot for live chat support, then you should select a tool that works well with HubSpot.
Ease of use
This might sound similar to what we talked about in the "Good UX" section, but it's actually a bit different. Ease of use means that the overall usage of the product both for you and your users should be seamless.
Ensure things like reading and writing help docs should be easy, and also it should be easy for your users to contact you.
Pricing
Last but the least, the pricing should be a burden on your pocket. There are several tools that do come with an affordable pricing at start, but the prices increase rapidly as you start using various other features.
It's better to account for the future pricing right away before deciding.
Best helpdesk tools
Though there's nothing called best as everyone's requirements are different, but below is a list of the best helpdesk tools along with why we think so. Keep all the points discussed above before making a choice.
Let's begin!
HelpKit
HelpKit is a helpdesk tool that's focussed on knowledge base and async communication, it's for a reason that we'll discuss soon. The best past about HelpKit is the writing experience, it allows you to write on Notion and the same turns into your knowledge base that comes as a standalone website or a widget.
Now you might see things like live chat missing here but that for a reason, many businesses feel live chat to be an added burden on the customer support teams. It's much more efficient to move to async communication.
Want to read this from a user's perspective? Read why James, Founder of Leave Me Alone closed live chat and their GitBook help docs and moved to HelpKit. Moreover, it's not the only example, there are plenty.
If you really need things like live chat, then that's doable too by using Help Kit's integration with tools like Freshchat, Crisp and Intercom.
Pricing: Starts at $19/mo.
Freshdesk
Freshdesk is a customer service tool by Freshworks which has been quite popular for its affordability and generous free tier.
Though Freshdesk is pretty affordable, but the UI is too complex and feels like a legacy software plus because there are multiple tools working together, which makes it a bit complex. The writing experience with Freshdesk isn't that great too, and users have reported the UI refreshing while making small changes.
Pricing: Free plan available, paid plan starts at $18/mo./agent
Zendesk
Zendesk is another popular tool for customer support. It comes with features like knowledge bade builder, bots support, omnichannel messaging and much more.
The UI at Zendesk is also one of the best ones, but where it lacks behind is the affordability. It's one of the most expensive tools out there with pricing starting at $59 per agent/month, so if you have 10 support staff, then you'll be paying $590/month, which is costly for most businesses.
Pricing: Starts at $59/mo./agent
Zoho Desk
Zoho Desk is a customer support platform built by the Indian startup Zoho which also has other tools such as email marketing, live chat and much more.
Though Zoho Desk is used by many, but the UI here isn't the best. Apart from that, the pricing is also per seat based with no free seats, which means you'll be paying significantly more if you have a larger team.
Pricing: Starts at $20/mo./agent
Help Scout
Help Scout was founded in 2011, and since then, it has grown to become a popular tool among customer support teams. It comes with various features such as a knowledge base builder, live chat, shared mailboxes and much more.
Though there are plenty of things to love here, but the pricing here again is per seat with no included free seats. Plus, there have been many users who have reported issues with the UI having issues (data from TrustRadius and G2)
Pricing: Starts at $25/mo./agent
Other notable mentions
Though the above-mentioned ones were the best ones you can choose from, but there are certainly many more that should be mentioned here.
Intercom: It's a popular marketing and messaging tool that's capable of doing many tasks of a customer support, such as live chat and knowledge base builder. It is one of the most expensive tools on this list, with pricing going in thousands of dollars in numerous instances.
HelpCrunch: Another popular customer support tool that also integrates some features to help with marketing too, such as email marketing and pop-ups for various use cases.
Front: It's more of a shared inbox tool that also been widely used by many small teams for customer support. Though it's fine but lacks the features to be an actual helpdesk tool.
Which is the best helpdesk tool for me?
Picking the right helpdesk tool should be based on personal requirements. But can say that if you'd like to reduce the customer support burden and focus on other things such as product or marketing, the HelpKit would be the correct choice. It helps you in giving some breathing room by solving customer support thanks to help docs and AI (coming very soon).
Conclusion
In conclusion, selecting the appropriate helpdesk tool can be daunting, but taking the time to consider your options carefully and evaluating each tool based on its UX, ease of use, integrations, and pricing can help you make an informed decision.
Remember that different tools have different strengths and weaknesses, so it's important to choose the one that best fits your specific needs and requirements.