🏆 best tools
Zoho Desk review and a better alternative
July 17, 2023 • 3min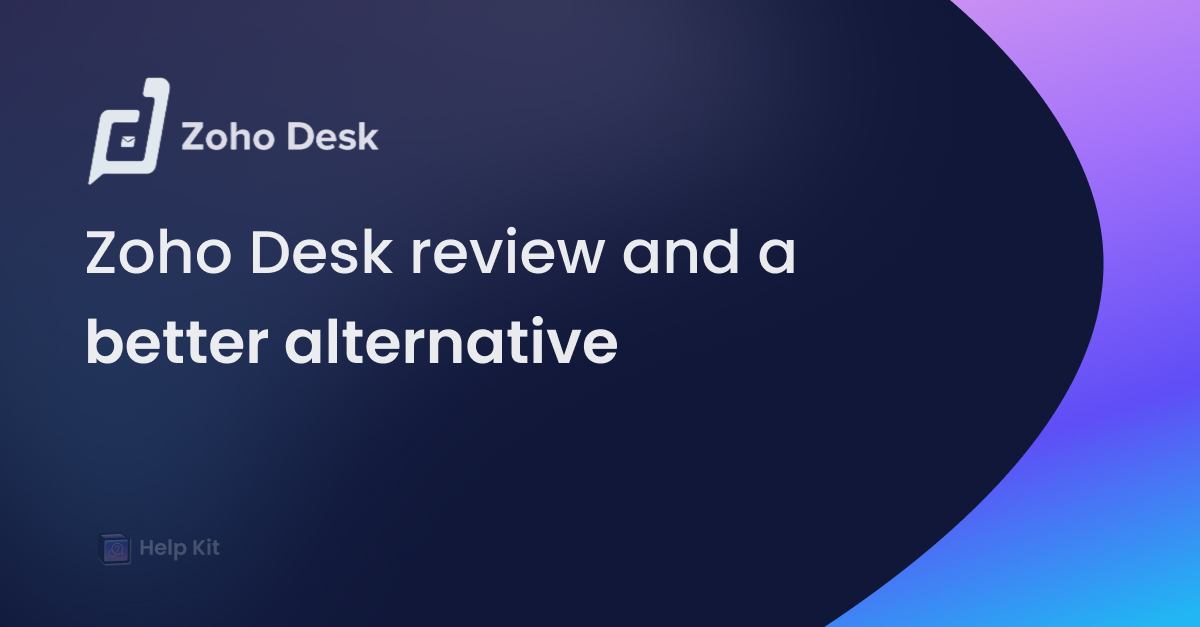 Help desk software is the core of customer support in any organization. It can help your company by tracking and responding to support requests in an organized way. Today we will look at Zoho Desk, an affordable and popular help desk software, and examine its benefits and drawbacks, as well as look into a better alternative.
Zoho Desk review
Zoho Desk is a cloud-based help desk software that helps you streamline customer service operations, improve agent productivity, and offer long-lasting customer experiences. It allows you to track customers' requests across channels, brands, products, departments, and more.
It's intelligently designed AI that helps your support team in handling customer service efficiently. One of its most popular features is that it automatically assigns each ticket to the appropriate agent based on availability and expertise.
Pros of Zoho Desk
You can communicate with customers across multiple channels.
There is a mobile app available for it.
It integrates well with other platforms.
It offers options for customization.
Comes at an affordable initial pricing.
Cons of Zoho Desk
Some advanced features are available exclusively at higher price tiers.
The UI feels dated and complex.
Zoho Desk User Reviews
"Best Customer Service Management Platform"
"Great Business Support Tool"
HelpKit - a better alternative
While Zoho Desk is nice, there are surely many caveats, as mentioned above, which may be a deal breaker for many.
HelpKit is an alternative to Zoho Desk that comes with a knowledge base first approach that uses your existing help docs and guides to answer generic questions while the others get routed either to your inbox or to the supported ticketing software such as HubSpot.
Want to read this from a user's perspective? Read why James, Founder of Leave Me Alone, closed live chat and their GitBook help docs and moved to HelpKit. Moreover, it's not the only example; there are plenty.
Pricing: Starts at $19/mo. for 1 seat, the next plan starts at $39/mo. for 5 seats and many more added features.
Frequently asked questions:
Is Zoho Desk any good?
If you're a small to medium-sized business looking for a help desk software with multiple communication channels and customization options, Zoho Desk is a good choice. However, keep in mind that some advanced features are only available at higher price tiers, and customizing the platform may be complex for some users. It's also worth noting that the UI of Zoho Desk may feel dated and complex.
What is Zoho Desk used for?
Zoho Desk is a tool that helps businesses improve their customer service operations, increase agent productivity, and deliver exceptional customer experiences. It enables companies to track customer requests across various channels, brands, products, and departments. Additionally, it offers AI-powered support that enhances the speed and quality of support however the effectiveness is questionable.
What is the difference between Zoho and Zoho Desk?
Zoho is a collection of cloud-based business applications. One of those applications is Zoho Desk, which is specifically designed for customer service operations.